ADAM'S LADDER PRE-ORDER CAMPAIGN!
Written Backwards is taking over the production of Adam's Ladder, an anthology of dark science fiction co-edited by Michael Bailey and Darren Speegle, but we need your help to bring this book to life!
To help fund this project, an Indiegogo campaign has been established and will now through October 15th. This is an all-or-nothing campaign, so help out if you can. Full funding will assure that all contributors receive professional payment for their work. And upon funding, campaign backers won't have to wait long to receive their book orders. The trade paperback and eBook  are scheduled for release in mid- to -late-October, with the deluxe hardback available in November.
Click the Adam's Ladder cover below to visit the Indiegogo campaign.

What is to Become of Humankind?
The future of humankind as an ever-changing organism is a subject of much debate. Where is our evolutionary path leading? Will the next rung take the form of mental transcendence, will it set humankind on a course toward divinity, or will this uncertain path involve a dark and terrible reversion?  Co-editors Michael Bailey and Darren Speegle present eighteen tales of dark science fiction that explore the course of evolution, written by some of the best literary minds in the fields of science fiction and horror:
Laird Barron – "Swift to Chase"
Chaz Brenchley – "Ch-ch-changes"
Ramsey Campbell – "How He Helped"
Scott Edelman – "Pity this Busy Monster Not"
Brian Evenson – "Nameless Citizen"
Erinn L. Kemper – "A Laughing Matter"
John Langan – "My Father, Dr. Frankenstein"
Roberta Lannes – "Painting the Burning Fence"
Tim Lebbon – "Strings"
Rena Mason – "I Will Be the Making of You"
Paul Meloy – "The Serile"
Mark Morris – "Undersound"
Lisa Morton – "Eyes of the Beholders"
Gene O'Neill – "Spirits"
Mark Samuels – "An End to Perpetual Motion"
B.E. Scully – "The Mythic Hero Most Likely to Squeeze a Stone"
Jeffrey Thomas – "Sliced Bread"
Damien Angelica Walters – "Filigree, Minotaur, Cyanide, Bloom"
Adam's Ladder will be published in eBook, trade paperback, and in a 100-numbered / limited edition (signed by its editors, Michael Bailey and Darren Speegle).
Does it have a book trailer?
Click this image below:
What will the trade paperback look like?
Something like this: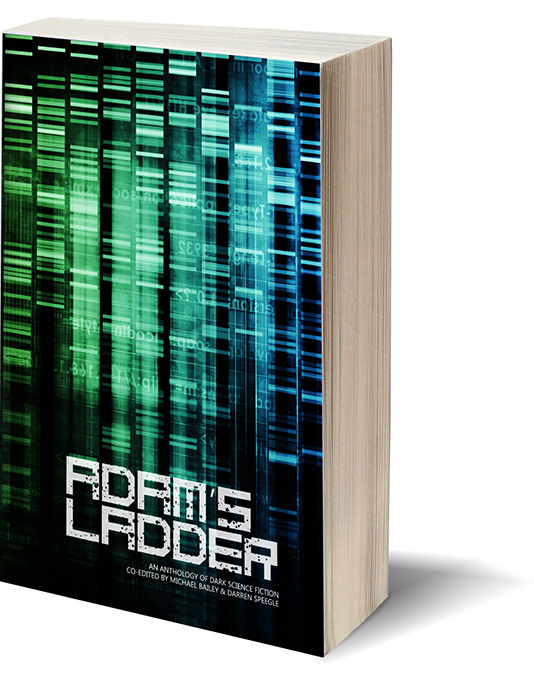 What is to Become of Written Backwards?
Over the last ten years, Written Backwards has published multiple award-winning anthologies, fiction collections, and standalone novels and novellas, ranging from dark science fiction to horror. Previous anthologies include the Bram Stoker Award-winning The Library of the Dead, the Benjamin Franklin Award winning (and Stoker nominated) Qualia Nous, and three volumes of Chiral Mad (the latest also up for a Stoker). Books published by Written Backwards have seen eight individual works nominated for the prestigious Bram Stoker Award, with three of those stories taking home the statue. Other stories/poems have been nominated for the Nebula, the Rhysling, and others. Foreword Reviews Book of the Year, the Indie Book Awards, the Independent Publisher Book Awards, the Eric Hoffer Book Award, the International Book Award … Written Backwards titles have seen over two dozen literary accolades over the years through its handful of titles! But we need your help bringing the next project to life: Adam's Ladder.
With your help, Written Backwards can continue in its legacy to:
Seek out diverse voices, both new and well-established.
Pay writers, poets, and artists professional rates.
Provide fair publishing contracts.
Design and publish some of the most beautiful books imaginable.
What is to Become of this Campaign?
You're probably wondering where your money will go for this particular campaign. Here's the breakdown:
63.64% – goes directly to the writers, which includes professional payment at a per-word rate, plus the cost of contributor copies for the various editions of the book.
31.22% – goes directly to publication costs for the eBook, trade paperback, and hardback editions of the book.
5.14% – covers shipping.
And that's it. Zero profit will be made from this campaign. Any additional funds raised will go directly to future Written Backwards projects, some of which are already lined up as expansions/unlocks within this campaign.
This is an all-or-nothing campaign, so if it doesn't reach it's goal, the project gets canned. Anthologies (let's face it), are expensive to make (but we all want them), mostly because there are so many incredible contributors involved. We need to raise $6,500 to make this book happen, so we've come up with some enticing perks.
And that's how you can help …
Written Backwards has some tricks to bring you even more great (and FREE) books in the form of campaign unlocks and future anthologies.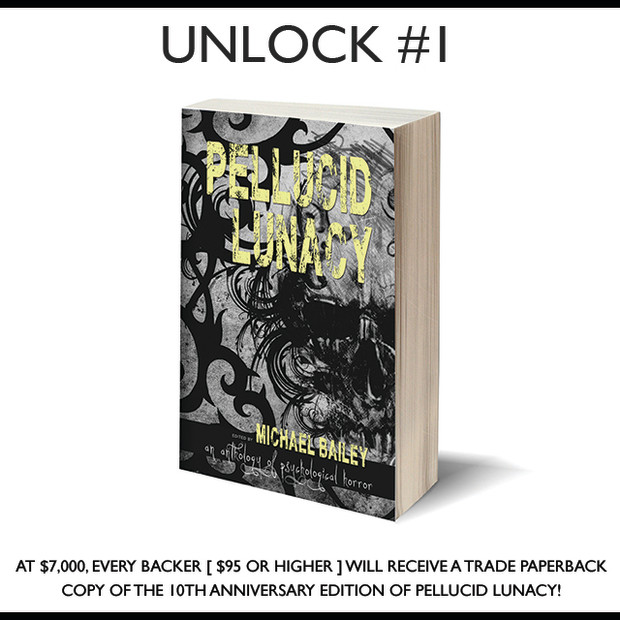 Pellucid Lunacy was the first anthology published by Written Backwards, and after ten years, the book is getting a face-lift. When the campaign reaches $7,000, all backers (contributing $95 or higher) will receive a complimentary copy of the trade paperback!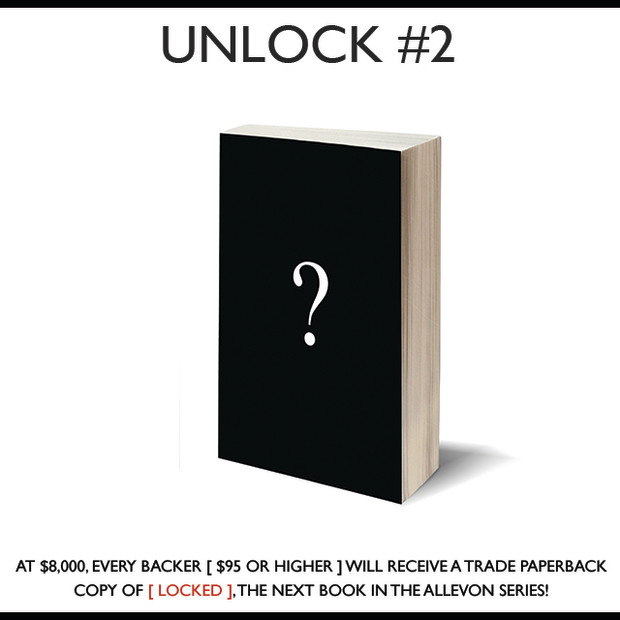 The title and author of the third illustrated book in the Allevon series by Written Backwards will be revealed when the campaign reaches $8,000, and all backers (contributing $95 or higher) will receive a complimentary copy of the trade paperback.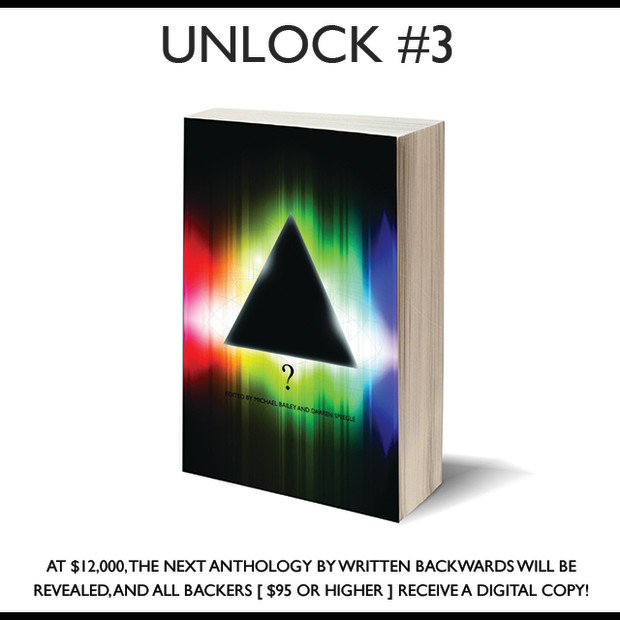 The title and tentative cover of the next dark science fiction anthology by Written Backwards will be revealed when the campaign reaches $12,000, and all backers (contributing $95 or higher) will receive a complimentary digital copy in either PDF or EPUB.
[ to-be-announced ] will include fiction by:
Michael Marshall Smith
Ian Watson
Roberta Lannes
Scott Edelman
B.E. Scully
Lynda Rucker
Brian Evenson
Erinn L. Kemper
Chaz Brenchley
Tlotlo Tsamaase
Gene O'Neill
​Richard Thomas
Paul Meloy
… and others TBA